Leanne's 50th
Fundraiser
Leanne Kessell
Funds go to
Children's Cancer Foundation, Stand Up
Thank you for making a donation to one of these charities in honour of my 50th birthday. They both support causes and ideals that are very important to me.
The Children's Cancer Foundation will allow ongoing treatment and improvement in the care of childhood cancer.
Stand Up is inspired by the Jewish commitment to pursue social justice, and works tirelessly to repair the world.
0 donations
since Jun 2018
Fundraising for
Children's Cancer Foundation
The Children's Cancer Foundation has supported children with cancer since 1992. We strive for better and less harmful treatments and believe that every child should laugh, dance, play and live as only a child can.
Stand Up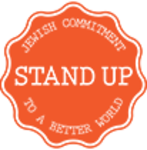 Stand Up (formerly Jewish Aid) envisions an Aust Jewish community actively pursuing social justice for all. Current community programs are Refugee Support, Indigenous Partnerships & Education. We believe that creating long term, meaningful partnerships is the most effective way to effect change.