---
Bet you didn't know Australia had a world champion Down syndrome swimming team, hey?
Down Syndrome Swimming Australia (DSSA) gives people with Down syndrome the opportunity to swim competitively against other athletes and to provide a pathway to local, national and international competition.
The Australian Down syndrome swimming team competes in National Competitions every second year, as well as International Championships on each alternate year – with exceptional results. The Australian team has won 'Champion Country' and 'Top Female and Male Swimmers', against teams from 23 other countries, at these International Championships; as well as an abundance of medals at each competition.
As you can imagine, participating and exceeding in the sport of swimming provides the Australian Down Syndrome swimming team members with great purpose, pride and confidence. The joy that these events, and the swimmers' success, brings to each team member is immeasurable and evident in their faces.
The cost of competing in these competitions is in the vicinity of $300,000. The next International Championships will be the World Championships in Truro, Canada in July 2018. To ensure that the Australian Down Syndrome swimming team is able to participate in these championships and continue to prosper as swimmers and individuals, we are seeking the support of our community to help fund the remaining $70,000 for airfares, accommodation and living costs in Canada.
Thank you for your support and believing in us!
55 donations
since May 2018
Fundraising for
Down Syndrome Swimming Australia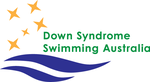 DSSA support people with Down syndrome access training coaching and competition in the sport of swimming. DSSA also manage the Australian Down Syndrome Swimming team, which have been world champions for the past 5 years.
---
Share this campaign
Share your Fundraising Page link.
Leave a message
---
report fraud