Paula and Dean's MND story
---
Dean and Paula admit they would be lost without the Association.

Dean Olsson is your typical fun loving, sport mad and genuinely caring bloke. He is 41 years young, married to his childhood sweetheart Paula and father to their two teenage boys. He should be enjoying the prime of his life with as much freedom as you and me. He should be earning a living from his Jim's Mowing franchise; he should be enjoying his weekly round of golf; he should be watching his boys turn into accomplished young adults; and he and Paula should be growing old together.

Sadly all these shoulds will never happen for Dean because in July 2015 he was told the words that no one wants to hear and the words no doctor wants to say. "You have Motor Neurone Disease." Dean knew what it was.  He knew the end result. Motor neurone disease is terminal.  There is no cure.

When you have motor neurone disease you face the huge risk of becoming trapped in your home because you are unable to access assistive technology devices that keep you safe and mobile.  In Victoria alone there are 400+ people living with MND every day and they rely on the care and support services delivered by MND Victoria to remain active participants in their communities.  MND Victoria needs to raise over $3 million each year to ensure that everyone with MND who needs our services can access them - without facing financial hardship.

Please take a few moments to read Dean and Paula's story which I hope you will find as inspiring as we did.  Then we ask you to give generously to this appeal so that people like Dean and Paula can access care and support services, as well as assistive technology devices at no cost to them.
101 donations
since May 2018
Fundraising for
Motor Neurone Disease (MND) VIC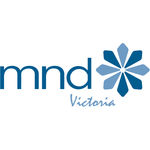 Motor Neurone Disease (MND) is a neurological disease that affects over 350,000 of the world's population, and kills over 100,000 every year. MNDAV produces a range of information and resources to assist and inform people living with MND, carers, families, friends and health professionals.