Liver Kids Christmas Appeal 2017
Fundraiser :
Liver Kids Australia
Your support this Christmas will help Australian families affected by childhood liver disease by funding information and support packs for newly diagnosed families.
The cause of a childhood liver disease is often unknown. Diagnosis and treatment can be slow, babies fail to thrive, are highly prone to infection and cannot meet developmental milestones. They may need nutritional and vitamin supplements several times a day.
Up to 60% of children born with a liver disease will need a liver transplant, often before they are 1 year old.
A diagnosis is life-changing for a family.
Liver Kids Australia offers peer support and information to families whose child has been diagnosed with a childhood liver disease.
Whether it is talking about the diagnosis and what to expect next, the emotional turmoil of going through the liver transplant process, thoughts on starting school or hosting an event to give families the opportunity to meet one another, Liver Kids is here to help.
"There is so much importance in coming together, knowing that you're not alone" - Rosa
Just some of the things Liver Kids does....
- National telephone peer support
- Cash grants to help families stuggling financially due to their childs hospitalisation
- State based social events bringing kids and families together
- Grants to help with ongoing treatment post liver-transplant
- Biennial National Conference
Every donation, big or small, makes all this possible and helps improve lives.
Thank you for your support. Don't forget to download our e-card to spread the festive cheer with family and friends, letting them know that you are supporting Liver Kids Australia this Christmas.
6 donations
since Nov 2017
Fundraising for
Liver Kids Australia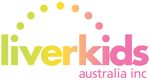 Liver Kids Australia focuses on liver disease in children, a health issue with a low profile but severe effects. Approximately 1 in 10,000 Australian children have a liver disease and many eventually need a liver transplant.