Printer technology expands skills and work for people with disability and provides quality service to customers
Fundraiser :
Marriott Support Services
Marriott Industries is a social enterprise that employs 80 people with disability. 

We carry out work such as Pick'n'Pack, Light Assembly, Collating and Sorting.

One of our strengths is labelling products although we don't have the required printers and coders. 
We want to buy new print bar-code and labels technology. 

It will give our employees opportunity to learn new computer skills to operate the technology and importantly to increase our capacity to offer more work. 

We need $15,000 to afford the printer technology.
The benefits for people with disability include social inclusion by being part of the workforce and employment brings economic independence, it develops skills and builds confidence.
Help us continue to reach goals for people with disability.
13 donations
since Jun 2017
Fundraising for
Marriott Support Services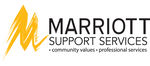 Marriott Support Services is a NDIS registered provider with a community hub, social enterprises and Employment Options for adults with intellectual disabilities. We offer a range of supports to create opportunities and build inclusion in the wider community for people with disability.