HELLEN Research Fund 2017
Fundraiser :
Australian Institute of Neuro-rehabilitation
Meet HELLEN! Hunter's Exoskeleton for Lower Limb Exercise and Neuro-rehabilitation
We need your help to keep HELLEN standing and moving. Your donations enable us to fund much needed research in the area of technology-assisted exercise involving Australia's 1st hands-free self-supporting exoskeleton. Show your support for people living with the devastating physical, emotional and financial impact of life after a stroke or acquired brain injury. Please donate today to our world-first clinical trial, help us fund much needed neuro-rehab research. It's as important as funding research for a cure!
#UNLOCKINGPOSSIBILITIES #HELLEN #NEUROREHABRESEARCH    
9 donations
since May 2017
Fundraising for
Australian Institute of Neuro-rehabilitation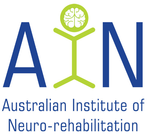 Enabling Accessible Technology-Assisted Community Exercise Programs For NeuroRecovery. Funding Neuro-Rehab Is As Important As Funding Research For Cure! #UnlockingPossibilities