Donate A $ A Week - CULINARY EVENT
Funds go to
Donate-A-$-A-Week
We at Donate-A-$-A-Week (DA$AW) are holding a CULINARY EVENT throughout the month of May where individual families and individuals are asked to hold a dinner, a Bar-B-Cue, meet for coffee or drinks etc; where you come together with family or friends and as an adjunct to the event you and your friends are encouraged to consider becoming Member donors of DA$AW.
NB: A big thank you to my friend Sin Fong Chan for many of the photographs used in this campaign.

Besides raising funds for the various charities which we at Donate-A-$-A-Week select and support (a different charity each month) we are particularly keen to get more regular Member/donors where the individual contributes just $1.00 pw ($4.33 pcm, $13,00 p/qtr or $52 pa) by direct debit or via MyCause. We aim to recruit at least 1000 members. Current Membership only 46!

We are a totally voluntary organisation and 100% of all donations go to charity. As mentioned we select a different charity each month - usually a smaller one where they don't have significant Marketing/Advertising exposure. For full details of our activities and to see a listing of organisations to whom we have donated over the past 12 months please visit our website at www.donateadollaraweek.com.

To participate in this CULINARY EVENT simply contact us by Email at phil@donateadollaraweek.com and we will send you registration details and other information to help you hold your Event for us.
---
2 donations
since Mar 2017
Fundraising for
Donate-A-$-A-Week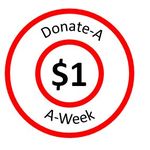 Our charity is centred around the belief that many small donations can help individual causes and assist those in need, You can make a difference. Together we can make a bigger difference! As a group we can make a difference to individual issues, global poverty, famine and the like.