St Andrew's Easter Appeal 2017
It was June 2008 when Dejonn noticed a subtle tingling in her toes and fingers. Just days later, she was paralysed.
"Even though I couldn't move I could still hear the doctor tell my husband to prepare for the worst," said Dejonn.
At St Andrew's War Memorial Hospital we offer inpatient and outpatient rehabilitation services for those recovering from injury, illness or surgery. Our goal is to assist each patient to reach their highest potential level of independence and helping them return to normal life as quickly as possible.
Your generous and ongoing support has meant that we can responsd to those who are most desperate, for this I thank you. Can you help us continue our vital work and help others like Dejonn? By making a donation by 28 April 2017, you'll ensure the continued support of our rehabilitation ward to help others i nteh community get back on their feet.
Giving is easy. Simply click the 'donate now' button on the right hand side of this page and a receipt will be automatically be emailed to you. All donations over $2 are tax deductible.
If you would like to know more about how your generosity can help deliver essential occupational therapy and rehabilitation services, please contact our donor care team via email at fundraising@uchealth.com.au or call 1800 001 953.
Thank you for your support.
3 donations
since Feb 2017
Fundraising for
St Andrew's War Memorial Hospital (UnitingCare Queensland)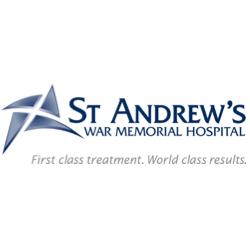 St Andrew's War Memorial Hospital is one of Australia's leading hospitals providing first class treatments and achieving world class results.