Meal Vouchers for NICU/SCN Families
Fundraiser :
L'il Aussie Prems Foundation
L'il Aussie Prems Foundation has always looked for ways to broaden the opportunities for support we offer to families of sick and prematurely born babies in hospitals all over the country.
The NICU and SCN journey is experienced by thousands of families across Australia every year and affects each one differently. Families face the challenge of many months of daily travel to and from hospital while their child receives critical care. Parents and families in these circumstances frequently face the additional burden of financial stress during this time. Day-to-day expenses of being in such an exceptional environment including daily parking, time away from work, medical costs, and finding nutritional and easy meals, quickly add up while supporting their child through an extended hospital stay.
With this in mind, we announced our new national meals voucher program last month to provide parents a nutritional opportunity thanks to the support from Grill'd Australia. Our new program offers high quality, nutritious meals by way of a gift card, redeemable at any Grill'd outlet up to the value of $25.00 per card. Our gift cards will provide struggling parents the opportunity to maintain their own health and wellbeing whilst their baby is receiving care in a NICU or SCN.
To date, we have donated 70 x $25.00 Grill'd gift cards to nurseries in Bendigo (VIC), Toowoomba (QLD), Centenary Hospital for Women and Children (ACT), Ballarat Hospital (VIC) and Wollongong Hospital (NSW). 
To enable our charity to expand our programs reach to further hospitals, and to ensure that we can continue donating our meal cards to nurseries upon request, we are asking our community for help. Please consider making a tax-deductible donation to support our unique program, let us know in the comments section which hospital you would like to see receive our Grill'd gift cards and encourage your family and friends to also donate.
All donations received through our campaign page will directly benefit our meals program for NICU/SCN families. 
Please note: Our gift cards are provided directly to Social Workers within nursery units. 
#lilaussieprems #foot4prems #mealprogram4prems
9 donations
since Sep 2016
Fundraising for
L'il Aussie Prems Foundation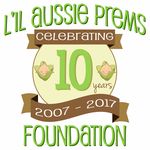 Dedicated to providing support to families of premature and sick newborns, the community, awarding volunteers and donating equipment to Australian NICU/SCN's.