Legal services, community services and the Fair Work Commission, all refer to the NTWWC and rely on our expertise. For 22 years we have been helping vulnerable Territory women.
"I believe that the NTWWC are a critical part of the gender equality machinery of our nation - their continued existence and funding goes to the core of a woman's ability to enjoy her human rights in Australia." Elizabeth Broderick, Former Sex Discrimination Commissioner: 2007 - 2015
Every woman deserves a safe place to turn for solid, unbiased and free advice when faced with a workplace crisis.
All donations, no matter how small, can and do make a difference!
30 donations
since Sep 2016
Fundraising for
Northern Territory Working Women's Centre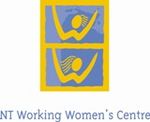 The NTWWC is a free service for vulnerable women in the NT who have workplace problems, such as sexual harassment, discrimination and bullying. Services are targeted at indigenous and Culturally and Linguistically Diverse women, who have nowhere else to turn to get help with their workplace rights.
---
Share this campaign
Share your Fundraising Page link.
Leave a message
---
report fraud