Saving Chloe Saxby
Fundraiser :
Chloe Saxby and Vanishing White Matter Disease Incorporated
---
Update on Saving Chloe Saxby, Feb, 2017:
After an illness free winter, Chloe has deteriorated over the last couple of months due to the onset of seizures and once again makes us realise how much we are in a race against time. 
We have had some promising communication from the professor who is heading up the small research team that is working on a cure for VWM disease. She has isolated four compounds that showed promising results in her lab, however, the next phase of testing will need to be conducted. Outsourcing this testing is the best way to save time as the big commercial laboratories can handle much larger amounts of testing and have the equipment to do so. This does take a considerable amount of funding, which is why we started the Saving Chloe Saxby Campaign. Unfortunatley, because this disease is so rare, the fundraising is left up to the individual families. Although Chloe is the face of the VWM campaign in Australia, all of the funds raised will go to speeding up the cure - to help approximately 170 children around the world suffering with this disease. 
This cure is going to come, but without funding it will not come in time to save Chloe and the current generation of children suffering with VWM Disease.
Once again, from the bottom of our hearts, thank you to all who have donated and also to those who have so given generously of their time to help us. 
If you could continue to share SavingChloeSaxby.com we would be very grateful.
Determined, Hopeful and Eternally Grateful. 
The Saxby Family
Thank You.
We have reached the quarter of a million dollars milestone!! We are so grateful to everyone who has donated so generously, not only financially, but of their time, their compassion, spiritually and emotionally.
We have HOPE, - and if you have hope, you have everything. 
The monies raised will be put towards the purchase of a confocal microscope. We believe this will exponentially decrease the time it is going to take to find this cure. We will keep on fundraising untill we reach our goal of $2.6 Million. With this funding we will continue to buy key pieces of research equipment and expand the research team. 
Once again, we thank everyone for your support. 
Determined, Hopeful, and Eternally Grateful
Nyree, Grant, Maddy and Chloe.
xx
Contact: nyree@savingchloesaxby.com
Together we can save Chloe Saxby
Watching our precious little girl deteriorate every day is every parent's worst nightmare, but it is our agonizing reality. Until the age of three, our beautiful little girl was running around, healthy and happy. She had just started dance lessons and loved them.
Then overnight, she lost the use of her legs.
After eight months of testing Chloe was diagnosed with Vanishing White Matter Disease, an extremely rare, degenerative and terminal brain disease. VWM is a condition that destroys Myelin, the brain's white matter. In doing so it permanently affects transmission of brain signals to the rest of the body.
This is a disease that doesn't allow children to be children. A bump to the head, high temperature, cold/flu, stress or fright could kill Chloe.
Chloe is now seven, this monster of a disease has already robbed Chloe of her ability to walk, it will then paralyse her little body so she won't be able to hold her head up, talk, see hear or eat. She will experience a lot of pain, suffering and die at an early age....If the cure is not found in time.
There is hope!
Scientists researching VWM have had some encouraging breakthroughs recently. Professor Orna Elroy-Stein from one of only two research facilities in the world working on a cure, is testing new treatments with positive results.
However progress to reach the clinical trials stage is hampered by a lack of funding. With only 172 reported cases worldwide, pharmaceutical companies don't see it as commercially viable. So it is left up to the families affected to raise the funds to save our children. 
And we are in a race against time. The life expectancy is typically only between 5-10 years from disease onset. Speeding up the progress to reach clinical trials stage will come at a cost of approximately $2.6 million.
The cumulative breakdown of our fundraising goals is:
1st Milestone: $840k - to fund a specialised Confocal Microscope to speed up & further the already promising research
2nd Milestone: $1.4m – reaching this will also fund a Fluorescence 
Activated Cell Sorter and hiring of additional research assistants 
3rd Milestone: $1.7 mil – will additionally fund live cell imaging and MRI analysis equipment
4th Milestone: $2.6m – to enable an outsourced program to facilitate characterisation of the drug-like molecule with the potential to lead to pre-clinical stage
Chloe is a patient of Dr Hugo Sampaio, Neurologist at Sydney Children's Hospital - "In the world of rare diseases research, the last decade has seen tremendous efforts to establish international collaborations. There are currently two major research collaborations underway aiming to find a cure for Vanishing White Matter Disease, both of these are overseas. The research taking place under Professor Orna Elroy-Stein at the University of Tel Aviv is showing some promise and may be lifesaving for Chloe and other children like her".
We can't stand by whilst this disease ravages Chloe's body and watch it take everything from her. Our gorgeous girl is a ray of sunshine and deserves the right to make her mark on this world.
This cure is going to come, please help us find it in time to save Chloe
Let's stop this disease so the next time parents are told this soul destroying news there is a treatment available! This can only happen with your help. We really hope you will assist us in raising these lifesaving funds, every dollar counts. Even if you can only share this with as many people as you know, we will be forever grateful.
All funds raised will go towards finding the cure.
Thank you from the bottom of our hearts. 
Grant, Nyree, Maddy and Chloe Saxby
CONTACT: nyree@savingchloesaxby.com
Saving Chloe Saxby is part of our own non-profit Australian Registered Charity with Deductible Gift Recipients Status.

Chloe Saxby and Vanishing White Matter Disease Incorporated
Charitable fundraising number: CFN/23384 ABN: 59 276 626 144
1747 donations
since Feb 2016
Fundraising for
Chloe Saxby and Vanishing White Matter Disease Incorporated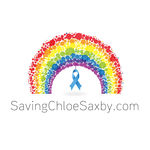 With your help we can save Chloe Saxby and end this devastating disease for all children. This cure is within reach, but we are in a race against time. All funds raised go to advancing this life saving research for a cure for Vanishing White Matter Disease. Tax Deductible Receipts provided